Eye-opening research on school fundraising by Your School Lottery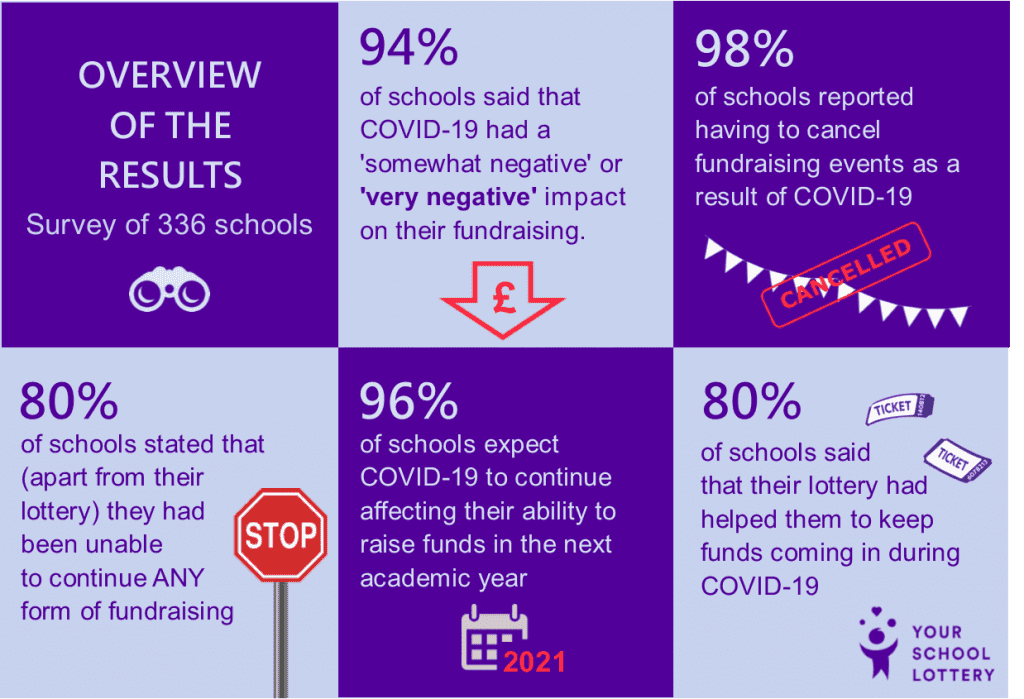 Our team at Your School Lottery have released their findings on the impact of the coronavirus on school fundraising, and the results are truly eye-opening. An overwhelming 98% of schools have been forced to cancel critical fundraising events, leading to financial gaps in their income. In fact, one school even shared the heartbreaking news that it had to go into administration and close its senior department due to financial difficulties.
Purpose
We surveyed 336 primary and secondary schools, multi-academy trusts, special schools and pre-schools to understand the effects of COVID-19 on school fundraising, the subsequent impact on school spending, and how schools anticipate this will affect them in the upcoming academic year. You can access the full report here.
Key findings
The survey uncovered a worrying situation for schools nationwide:
80% said they'd been unable to continue ANY form of fundraising since the onset of COVID-19
99% of schools have raised less money as a result of COVID-19
96% expect COVID-19 to affect their fundraising income next year
The cancellation of summer events has had a devastating impact on school fundraising. Schools shared their experiences, highlighting the financial loss incurred:
"Our summer events typically generate around £10K, which greatly contributes to funding various resources within the school."
"The cancellation of the summer fayre, which usually brings in over £5K, has hindered our ability to purchase iPads for classrooms, as we did last year."
The implications
The schools surveyed reported losing as much as 70% of their annual fundraising income. If school fundraising income nationwide drops by 30-50%, the cumulative loss this year alone would range from £150-260 million. Unfortunately, this situation is not expected to improve in the near future, as 96% of schools anticipate extremely limited fundraising opportunities in the upcoming academic year.
"Our fundraising efforts were already crucial in supplementing a school struggling with budget cuts, and now the situation has worsened!"
"We are a small school with just 48 children, and every penny from fundraising is vital, given the tight budgets in our county. The funds we raise are instrumental in supporting various aspects of our school, and they will undoubtedly suffer due to the current circumstances."
A positive outlook
However, amidst these challenges, there are signs of resilience and adaptation within schools. Many are exploring new approaches to fundraising in this "new normal" environment. One school mentioned, "While this is undoubtedly a disaster, it may also foster creativity."
With the increasing acceptance of remote work, virtual fundraising has become more promising than ever. Richard Manville from PTA+ emphasised the resourcefulness of PTAs stating: "I fully expect PTAs to develop strategies that adapt to this 'new norm' and increase their fundraising through services like Your School Lottery."
During the lockdown period, Your School Lottery has been a lifeline for over 1300 schools, providing a consistent source of fundraising. In fact, 80% of the schools surveyed expressed that an online lottery has been instrumental in maintaining their income stream during these challenging times. Some of their comments include:
"The lottery has undoubtedly been a valuable source of income for us."
"Despite a slight drop in ticket sales during the lockdown, the lottery has been our saving grace for fundraising."
You can learn more about Your School Lottery and its benefits by visiting our website.